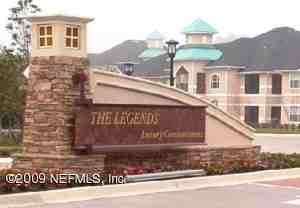 If you read this blog on a regular basis, you know many of my blog post ideas come from casual conversations I have with the Davidson Realty team. (Well, conversations I either have or overhear!) This post is no exception. After the sales meeting on Tuesday, a few agents were talking about the ridiculously good deals on houses in St. Augustine, specifically at The Legends at World Golf Village.
Here's a little background on The Legends…. They are a condominium community at World Golf Village that offers many private amenities for their residents, including a fitness center, putting green, tennis courts, clubhouse and two pools. It has a wonderful location near shopping and restaurants and is an "A rated" school district. Like much of WGV, it is only 20 minutes to the beach. Sounds pretty good, right?
So I wanted to learn more about the "ridiculously good deals" they had. Ashley Wood, one of Davidson's agents, knows all about condos in St. Augustine and she lives in The Legends so I asked her for the inside scoop. She explained there are two builder closeouts that are available right now for around $50,000 each. Can you believe that? A WGV condominium for $50,000! I'm not a Realtor, but if you do a little quick math and assume you put 20% down and get a 6% rate on a 30-year fixed, your loan payment would be under $240 a month! That's simply a crazy good deal!
If you want to learn more about The Legends and all of the opportunities they have there, contact Ashley.