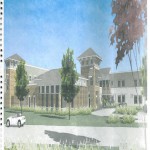 Our A-rated St. Johns County school system is one of the biggest draws for young families moving to the World Golf Village and north St. Johns County area. Even with decreasing budgets and continued threats of more budget cuts, our schools remain some of the best in Florida and even the country. With that excellent reputation for quality education comes lots of families and increased demand on our schools. An expansion at Mill Creek Elementary School and a new elementary school in Palencia will help ease the influx and keep up with growth.
The new two-story expansion at Mill Creek Elementary School is nearly complete and will welcome new students at the start of the 2011/2012 school year. Sixteen new classrooms are housed in the state-of-the-art facility which features the latest technology and a flexible design plan that allows for functional breakout spaces.
Recently, the St. Johns County School Board unveiled its plans for a new $16 million elementary school in Palencia. Plans call for the school to be ready for the 2013/2014 school year. Approximately 700 students are expected to attend to the K-5 school. The new school will also help alleviate stress on Mill Creek Elementary which currently serves more than 1,000 students. "There's been quite a bit of growth in the area. Probably the greatest amount of stress is on Mill Creek Elementary and some other schools in the area," said Tim Forson, associate superintendent for operational services. The school will be situated next to Palencia Park on about 8 acres.