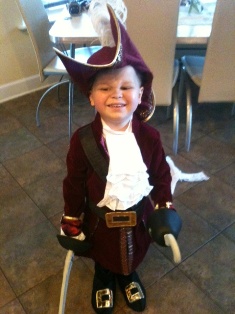 Tavi Sport will celebrate his 4th birthday aboard the St. Augustine pirate ship Black Raven.  No doubt the young World Golf Village resident will don head-to-toe pirate gear for the event. "Tavi has been fascinated with pirates for about two years now," says his Mom, Paula Sport.  "In fact, he wears something 'pirate-like' every day," she added. Tavi Sport will turn four on November 28th.  His special pirate-ship birthday party was organized by the non-profit organization Dreams Comes True because Tavi has been fighting Leukemia for about a year.  His fondness for pirates is just one of the things that makes Tavi special.  He also has a joyous, delightful personality that puts a smile on faces wherever he goes. 
The Sport family moved to Grovewood in our St. Augustine golf course community five years ago when Tavi's Dad, Lewis Sport, was transferred with Wells Fargo Home Mortgage. "My husband is a golfer," says Paula. "We love the beautiful drive back to Grovewood and seeing what kinds of animals we can spot.  Our favorite is the fox squirrel."  The Sport family also includes Tavi's 12-year-old brother Tanner who attends Pacetti Bay Middle School and pets, Bandit and JT (Jack Russell Terriers) and Rex and Scooby (Yellow Bellied Slider Turtles).
Tavi was just three years old when he was diagnosed with Leukemia.  "Tavi's now in his last phase of treatment which will last two-and-a-half years.  On October 5th, Tavi started a series of radiation on his brain fluid and he will continue to have spinal chemo treatments, chemo through his port and take oral chemo at home," said Paula.  World Golf Village neighbors or anyone who would like to show their support for Tavi and his family can do so by participating in Jacksonville's CureSearch Walk on October 15th in Metropolitan Park in downtown Jacksonville. Visit www.curesearchwalk.org/jacksonville/paulasport and register to walk or donate under Team Tavi.  In addition, blood "donated" during Davidson Realty's monthly blood drive on October 18th will be banked for Tavi.  All blood donors on October 18th will be entered into a drawing for two tickets to the Jaguar/Houston game.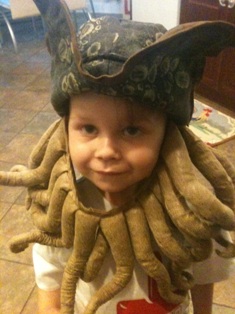 Paula Sport explains that her family tries to keep their family life as normal as possible.  "The community has been so helpful during Tavi's illness," says Paula.  Like any 4-year-old, Tavi enjoys swimming, playing hide-and-seek, playing ball and playing games with his big brother Tanner.  But the pirate phase sets Tavi apart. "He loves the Pirate of the Caribbean movies, visiting the St. Augustine Pirate and Treasure Museum and he always wears his pirate stuff to Nemours and Wolfson Children's Hospital.  The hospital staff all call him 'their little pirate'," says Paula. 
On that note, Tavi was hungry.  Putting on his tricorne hat, Tavi was ready to head to Publix with his Mom for some popcorn chicken and to share smiles with everyone.