I love beer…most any kind of beer, so you can imagine I was extremely excited to hear that we now have a brewery right around the corner from our St. Augustine golf course community. Mile Marker Brewing is located right off SR 16 near the outlet malls. What that means to me is no more driving to Jacksonville Beach for delicious microbrews. Now, the delicious microbrews have come to me!
Mile Marker currently has five beers on tap – Mile Marker Zero (Key West Kölsch-style Ale), Mile Marker 1565 (Red Ale), Mile Marker 82 (Islamorada IPA), Ben's Too Peachy (Kölsch-style Ale with peach), and a honey ale (Kölsch-style Ale with honey). They have a Pecan Brown Ale and an Oatmeal Stout brewing which will be ready to serve in the next couple of weeks.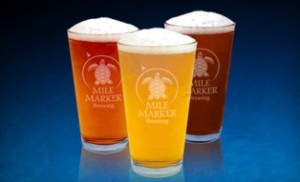 The atmosphere is exactly what you would hope for at Mile Marker. The staff of locals couldn't be friendlier and there are tons of fun activities to take advantage of while you are deciding which beer to try next. They offer corn hole, ping pong, Golden Tee, darts, flat screen TVs and more! Trust me when I say you don't want to challenge the Tap Room Manager, Ben, at ping pong. You will lose.
Make sure you stop by between 4 and 7 pm Thursdays through Saturdays for their $3 happy hour specials. Ladies can enjoy half off beers on Thursdays from 7 pm – 12 am. They are open Wednesday through Sunday and offer beer flights and free brewery tours like the one you see in the video above. It's really interesting to learn how your favorite flavors are formed.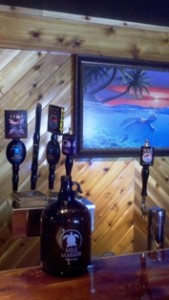 Another great thing about Mile Marker is how much they support our community. They recently had a fundraiser for a woman in need of a bone marrow transplant. They offer a $1 discount on full-priced beers for firefighters, police officers, EMTs, etc. And, they are holding a Relay for Life fundraiser on Wednesday, March 14th from 6-9 pm. A percentage of the proceeds will be donated to Relay for Life of World Golf Village.
You can purchase 1 gallon beer growlers or kegs at Mile Marker Brewing. The growlers are $25 for the first growler and $15 to refill after that. Stop by and welcome Mile Marker to our neighborhood and be sure to try my favorite – Ben's Too Peachy!