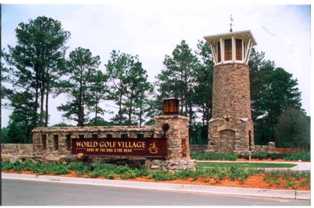 Just as the cardinals are busy preparing their nests in our wooded St. Augustine, Florida community, so too are new World Golf Village residents readying their own cozy nests! The new construction that began to increase at the start of this year, continues on an upward trend in our master planned golf community. New homebuilding construction is happening throughout the World Golf Village neighborhoods with a range of projects underway by national homebuilders and local custom homebuilders. 
National homebuilder Standard Pacific Homes has broken ground on 4 homes in the family-oriented GroveWood neighborhood of World Golf Village.  The anticipated completion is summer 2012.  Standard Pacific Homes purchased 16 lots in GroveWood late last year. The company is offering four floor plans, ranging from about 2,500 to 3,500 square feet.  Pricing starts in the high $200,000's and an extensive list of upgrades comes standard with the new homes.
Regional homebuilder Inland Homes has broken ground on homes in World Golf Village's OakWood and will soon be breaking ground in GroveWood and Waterbury neighborhoods this year.  After completing two new custom homes in GroveWood and Waterbury by the Links earlier this year, CornerStone Homes of Jacksonville has another home starting construction in Waterbury by the Links in late May. 
Also based in Jacksonville, Florida, J.A. Long Custom Home Builder recently wrapped up construction on a home in Heritage Cove. Leading southern homebuilder Arthur Rutenberg Homes completed a new home in Waterbury earlier this year and began construction on another home in Windmill Estates.  Learn more about Arthur Rutenberg's Design Center here. And, Jacksonville based Advantage Home Builders has a home under construction in Waterbury by the Links. They are also active in Ashley Oaks, Durbin Crossing North, Wellington Park Aberdeen, and more.