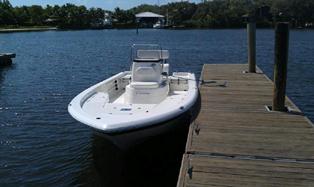 One of my favorite things about living in St. Augustine is the multitude of fishing opportunities in our area. Because we have vast bodies of water surrounding us including the St. Johns River, the Intracoastal Waterway, and the Atlantic Ocean, there are a variety of opportunities for both freshwater and saltwater fishing. We are also very lucky to have local fishing stores that are more than happy to help with tackle and local knowledge. Not to mention, local forums offering information and insight on both fishing locations and equipment.
I have a 22-foot Nautic Star Bay Boat with a Yamaha 154-stroke outboard that enables me to fish a variety of locations within the Intracoastal and bottom fish in the ocean. When the water gets a little rough, I also enjoy going to the beach with my friends and surf fishing. Nothing beats fresh fried Whiting for dinner! For those freshwater fishermen out there, there are plenty of opportunities to catch bass and catfish in the St. Johns River.
If you are looking for new gear, tackle or local knowledge there are several spots in our area that I recommend. Avid Angler and St. Augustine Marina offer great prices on gear and tackle and they are conveniently located for World Golf Village residents. If you live at the beaches, then I would highly recommend Strike Zone and C & H Lures. Strike Zone carries all of your inshore and freshwater gear and tackle, while C & H Lures caters more to the offshore fishermen. All these places carry top-selling gear and are happy to assist you in any way they can.
I am frequently checking the forums on www.floridasportsman.com for all things fishing. Members of the forum review gear, post fishing reports and are more than willing to answer any questions you may have.
I hope this information is helpful to all the fishermen out there! Tight Lines!