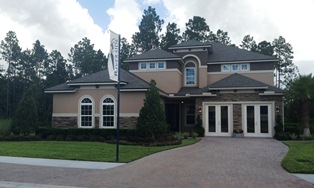 Davidson Realty President Sherry Davidson and I recently met up with Chris Wood, Vice President of Riverside Homes, to learn how his newly-formed company came to be and check out all of Riverside Homes' new construction happening in Durbin Crossing.  Chris and his business partner Matt Roberts jumped at the chance to build in one of St. Johns County's fastest growing communities located in the high-performing school district of St. Johns County. Durbin Crossing even has a K-8 school currently under construction scheduled to open for the 2014 school year.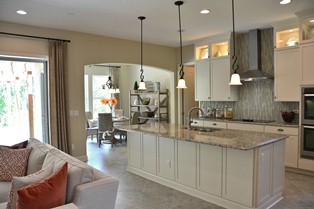 Chris explained that he and Matt dreamed of starting a company that followed the core values of respect, integrity, quality, heart and personal commitment to customer satisfaction above all else. Their motto is "Build with Confidence" and, after meeting Chris, I can understand why his customers are able to do just that. Even though Riverside Homes is a newer company, Chris was raised in the real estate industry and gathered a wealth of experience from his parents who are in the development business. Chris and Matt make for a great team – approaching the homebuilding process with a fresh look, and focusing on and understanding the diverse needs of every family they work with.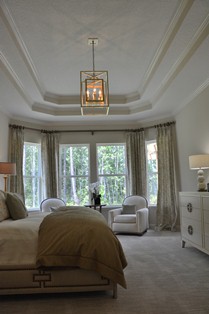 Chris gave us a first class tour around The Wheaton model, which won the 2013 Parade of Homes Best Feature award for its In-law Suite. The Wheaton is a four-bedroom, three-and-a-half bath home starting at 3,239 square feet with a three-car garage. The home has a beautiful outdoor living space including a fireplace, which is a very popular feature for Riverside Homes. The In-law suite is an option offered and created with the new generation in mind. Chris knows parents or in-laws are often moving in with their children, or adults sometimes have to move back in with their parents after college. It's also the perfect space for out-of-town visitors.
Riverside Homes really has a plan to suit any families' needs. They offer more than 10 floor plans with a plethora of upgrades and options. They currently have 17 homes under construction in Durbin Crossing. Make sure to give one of our Jacksonville Realtors a call at (904) 940-5000 to get your personal tour of The Wheaton or to learn more about Riverside Homes!