Davidson Realty's team took an afternoon to leave our World Golf Village-based office and make our way to Julington Creek for lunch at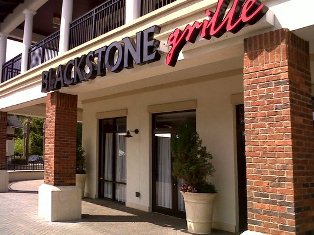 Blackstone Grille. We had heard wonderful things about the bistro style restaurant located at Bartram Oaks Walk (close to the intersection of SR13 San Jose and Race Track Road), but we had to try it for ourselves. Our group of 30 was graciously greeted and seated in a private room. We had exceptional service and scrumptious food!
Blackstone Grille offered us a fixed menu to cater to our large group size and help with timing of the lunch. We had to get back to the real world at some point, I guess! Especially with all the home sales and real estate closings our amazing agents have been handling.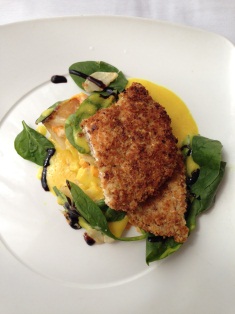 We were welcome to order off the normal lunch menu, but no one had a problem finding something that caught their eye on the fixed menu. I ordered the Crunchy Chicken – pistachio crusted chicken with spinach and marbled potato gratin with saffron cream sauce and balsamic syrup, along with four others at my table. Let me tell you, none of us were disappointed. The chicken was crunchy on the outside, yet deliciously tender on the inside, and the potatoes melted in my mouth.  Our crew has pretty discerning palates and everyone raved about the food at Blackstone Grille.
Then, it was time for dessert. I assumed most people would pass on dessert since it was lunch time and all, but that was before our waiter brought out the tray of fresh dessert offerings for the day. When I looked around, there was dessert at almost every seat! I didn't order my own, so I could mooch off of everyone else – There are no calories in other people's desserts, right? The trio of sorbet was crisp and tasty, the Tiramisu was delectable and the Coconut Cream Pie looked like art on a plate.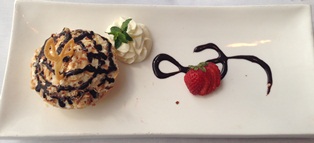 Blackstone Grille is family-owned and operated. Chef Charles Wang has over 30 years of restaurant experience. He has won numerous awards and so has Blackstone Grille, including Jacksonville Magazine's 2010 Food issue naming Blackstone Grille as one of the areas' top 5 steak restaurants and Jacksonville Magazine's 2009 top 25 restaurants list. Chef Charles is not only a wonderful cook; he is also a great person who gives back to the community. He is one of Davidson Cares' sponsors, supporting local St. Johns County public schools.
Blackstone Grille is open for lunch and dinner. It's the perfect place for lunch with co-workers, a romantic dinner for two, or drinks with your girlfriends! For more information on Blackstone Grille, please visit http://www.blackstone-grille.com/.