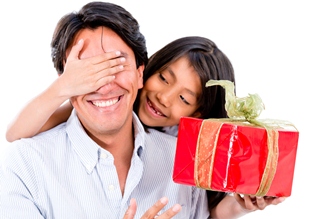 Most of us have found ourselves wandering around endless stores asking ourselves, "What in the world should I get him for Father's Day?" Well, break out of Brookstone. Lose Lowe's. And say "good bye" to Best Buy. Brick and mortar is old news; the internet is best place to find the ideal Father's Day gift. But shopping for gifts online doesn't have to be expensive or stressful! Here are some stress-free online gift ideas that will fit any budget.
Under $25
Themed M&Ms Gift Set – They always say good things come in small packages, and themed M&M gift sets are certainly proof! Starting at $9.99, you can customize an M&M gift package with his favorite colors, personalized messages and pictures, or even feature his favorite team's logo. Is he a Star Wars nut? They have those, too!
Men's Magazine Subscription – A magazine subscription is a great inexpensive gift for any Dad with interest in a hobby ("Field and Stream"), sports ("Sports Illustrated"), health and fitness ("Men's Health"), current events ("The Week"), or just likes easy reading ("Men's Journal"). Most 12-month subscriptions are within $25 and magazines make it easy to start a subscription online.
$25-$100
Beer Aroma Booster – If Dad enjoys the taste of a good quality brew, enhance his experience with a Beer Aroma Booster, which utilizes ultrasonic vibrations and water to improve texture, freshness and taste. Get it for $39.99. Click the link to watch the video to see how it works.
Mini Koo Non-Electric Speaker – This super easy device is a great gift for any iPhone user! Dad can simply slide in his iPhone and create his own acoustic amphitheater right from his phone. No need to mess with electricity, Bluetooth, chargers, or any cords! It's understated with beautifully crafted walnut wood and fits all iPhones (including iPhone 5). $69.99 at Gifts.com.
$100+
Livescribe 3 Smartpen – This goes way beyond your average pen! The Smartpen works and writes like a premium ballpoint pen (with the Swiss-made tungsten-carbide ballpoint ink cartridge) but boasts an infrared camera, ARM processor, Bluetooth Smart chipset, flash memory and lithium ion battery – all tucked inside the lightweight pen. Smartpen's wireless technology easily links to Dad's tablet or smartphone so he can watch his words transcribe to the device as he writes on paper! Smartpens start at $149.95. Click the link above to see the video!
Garmin Approach S1 – After all he has done for you, why not splurge on Dad? This device – ideal for any avid golfer – combines a high-sensitivity GPS receiver with a lightweight, flexible sport watch to measure individual shot distances and precise yardages for shots played from anywhere on the course, as well as tracks how far you walk on the course. It comes in several colors and sells for $179.99.