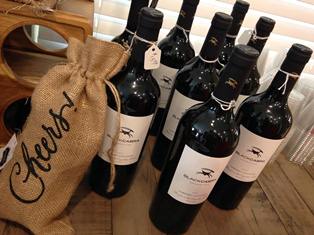 For Sande Gillard, owner of Wine Down on Market Street, the road to business ownership was like no other road she had been down. After years of professional experience in real estate and bartending, Sande embarked on a new adventure that helped her move past tragedy and utilize perhaps her best attribute: an upbeat, magnetic customer service style that draws people in and makes them feel at home.
Today, Sande has harnessed her experiences and talents and paired them with her passion for wine to create Wine Down on Market Street, a boutique wine shop that opened in Palencia on May 1.
We recently caught up with Sande to learn more about her and her new shop.
What is the story of Wine Down on Market Street?  My young husband passed away four years ago and after my friends came upon this place in Palencia, I sold my home and moved here. The wine shop came about through our conversations. I did this for fun and to keep me going since my future was changed, and I'm enjoying learning as I go. My brother is also doing his best to move here from Arizona with his wife to join me in the future if possible.
And the name Wine Down?  Wine has been my favorite vice to help me "wind down" and just breathe, so it was a natural fit for the shop!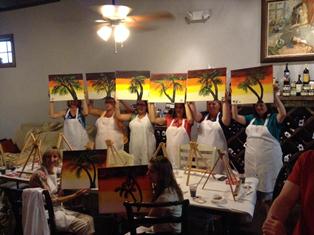 Tell us about your wine selection.  I feature only boutique wines as I consider myself a small boutique wine shop. I do not carry grocery store wines as I love to introduce new ones to the community. I have a great wine distributor that helps me with this.
What are some of your favorite wines?  I have several favorite wines.  In the reds at this time, I prefer Bran Cai Red Blend from Italy, Muga Reserve from Spain, and Mano Mano from Spain. In the whites, Santa Julio Pinot Grigio from Argentina and Santa Julio Chardonnay ORGANIC from Argentina, as well as Chateau De Fontenille Bordeaux from France. 
I feature three wines at my Skybar every week, which can be tasted and then bought by the glass or bottle; or customers can choose to buy a different bottle of wine for themselves.
Does Wine Down host events?  Yes! I post events on my Facebook page (https://www.facebook.com/winedownpalencia) and on my website (winedownonmarketstreet.com).  We host Pictionary evenings, wine events featuring international wines, wine pairing with chocolates, and I am hosting the first 55+ singles event for men and women on Saturday, August 23, from 6 to 9 p.m. 
Friday nights are extra special because Pure Balance Wellness & Yoga – just a few steps from Wine Down – features a special yoga class with Maddy at 6 p.m. Then, everyone walks down to Wine Down afterward for that special glass of wine – that's when we bring out the organic wines – and talk about what they just achieved in yoga.  Walk-ins always welcome!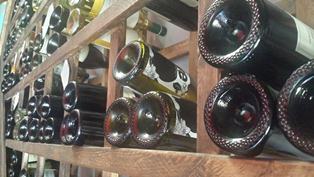 Wine Down is open Tuesday through Saturday from 3 to 9 p.m. and hosts wine tastings each of these days from 6 to 8 p.m. Sundays and Mondays are open for private events such as birthday parties, engagement parties, or Girl's Nights Out.
Wine Down also hosts wine and painting parties with Intermedia Art Studio, which allows guests to grab a paint brush and a glass of wine and let their imaginations go! Registration is $40 and includes a canvas, painting supplies and a complimentary drink of choice! Join Wine Down at upcoming wine and painting events on Tuesday, August 19, at 6 p.m. and Sunday, August 24, at 10 a.m. Space is limited! For reservations, visit http://www.intermedia-staug.com/.
Visit Wine Down on Market Street at 571 Market Street in Palencia and prepare to "wine down" and relax!