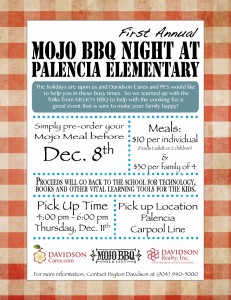 Davidson Cares is very excited to be hosting Palencia Elementary's First Annual MOJO BBQ Night on Thursday, December 11th between 4 and 6 pm! This is a very busy time of year with the holidays upon us, so Davidson Cares has teamed up with MOJO Old City BBQ to provide your family with a night off from cooking while supporting Palencia Elementary at the same time!
Here's how it works:
1. Simply choose your meal preference:
• Single turkey or pork platter (feeds one adult or two children) – Served with Texas toast, macaroni-n-cheese and green beans. Single platters are $10 (PES receives $5)
• Family platter (feeds family of four) – Served with turkey, pork, Texas toast, macaroni-n-cheese and green beans. Family platters are $30 (PES receives $15)
2. Pre-order your MOJO meal before December 8th via phone by calling Peyton Davidson at (904) 940-5000 or by visiting the Davidson offices (100 E. Town Place in World Golf Village).
3. On December 11th, just pick up your meal between 4 pm and 6 pm in the Palencia carpool line. Take your delicious dinner home and enjoy!
Palencia Elementary School is located at 355 Palencia Village Dr, St Augustine, FL 32095. Proceeds will help Palencia Elementary to buy books, supplies and technology for its classrooms. For more information, contact Peyton Davidson at pdavidson@davidsonrealtyinc.com.