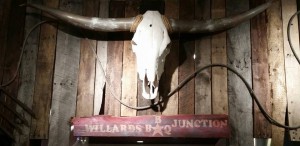 With a great rustic atmosphere and tasty barbeque, Willard's BBQ Junction is sure to be a neighborhood favorite! World Golf Village's newest restaurant recently opened up next to the BP Gas Station on International Golf Parkway. The barbeque joint's prices cannot be beat and their food is delicious and quick to order!
Willard's has an extensive menu, everything from southern appetizers like fried pickles, fried okra and onion rings to lunch and dinner options like burgers, steaks, giant loaded potatoes and, of course, barbeque! On my first lunch visit to Willard's, our group started off with the mozzarella sticks and corn nuggets before diving into our pulled pork sandwiches with crinkle fries. All of the food was delicious! The pork was tender with great flavor. They offer Carolina-style barbeque sauce, as well as hot, sweet and mustard.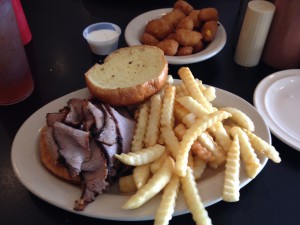 My brother's favorite thing on the menu is their Sliced Beef Plate, which comes with two sides and two pieces of garlic bread. He said the baked beans were very good and the Texas Toast was crunchy and delicious. Make sure to wash it all down with their sweet or unsweet tea!
Willard's Barbeque Junction is open Monday through Saturday from 11 am to 9 pm. They also offer catering! Find them on Facebook at facebook.com/willardsbbqjunctionwgv or give them a call at (904) 342-8380. Make sure to show them support and welcome them to the neighborhood!