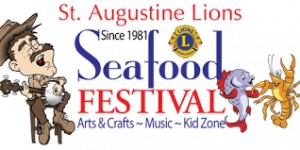 Since 1981, hungry folks throughout Northeast Florida and beyond have gathered in the Oldest City for one of the South's best seafood celebrations. And this year's 35th Annual St. Augustine Lions Seafood Festival is sure to surpass expectations.
Mark your calendar for this weekend, March 4-6, when Francis Field (25 W. Castillo Drive) will be filled with live music, more than 100 arts & crafts exhibitors and plenty of kids' activities like rides and magic shows (and even a pirate village!)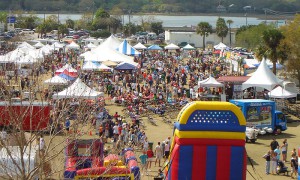 Best of all, enjoy the many fresh seafood selections from the event's 18 vendors. From the Conch Salad in Pineapple Bowl at Walker's Seafood to the Paella Octopus Pita at Greek Flame, don't expect just the same old fried shrimp. This year's options are varied, creative and delicious!
For you land lovers, check out the award winning BBQ at Smokin' D's or nosh on a meatball sub at Mother Truckin' Pizza food truck. The selections are sure to please every member of the family.
Tickets are $5 for adults and kids 15 and under get in free! Proceeds from the event benefit the St. Augustine Lions Foundation. Sorry, no pets or coolers are allowed. Event times are as follows (Arts and Crafts Village closes at sundown):
Friday, March 4, 3 p.m. – 9 p.m.
Saturday, March 5, 10 a.m. – 9 p.m.
Sunday, March 6, 11 a.m. – 5 p.m.
Learn more by visiting www.lionsfestival.com. See you at the festival!