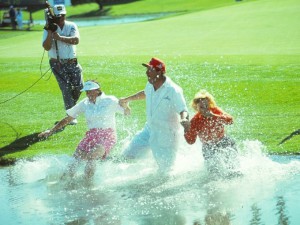 To commemorate the 46th ANA Inspiration, the LPGA's first major championship, the World Golf Hall of Fame is hosting a week-long exhibition from March 27 to April 2.
The tournament is held annually at the Dinah Shore Tournament Course of Mission Hills Country Club in Rancho Mirage, California. It is perhaps most famous for being home to Poppie's Pond, adjacent to the 18th green, where each year's winner celebrates by jumping in.
Visit the Hall of Fame to see memorabilia from past tournaments, including the robe Amy Alcott (who started the tradition in 1988) wore after jumping into Poppie's Pond after winning her third ANA Inspiration in 1991.
Don't miss this year's tournament (and the jump into Poppie's Pond!), airing on the Golf Channel March 30 through April 2.
Visit World Golf Hall of Fame Monday through Saturday 10 a.m. to 6 p.m., or on Sundays between 12 and 6 p.m. Visit http://www.worldgolfhalloffame.org for more information.