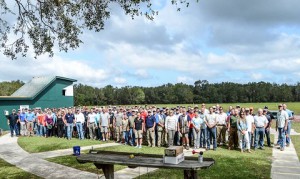 Davidson Cares, the corporate giving program of Davidson Realty, donated $35,000 to local charity St. Augustine Youth Services (SAYS) on Thursday, October 19th at the 2nd Annual Shooting for SAYS event! A big thank you to our amazing community for coming together for such a worthy cause.The Shooting for SAYS event took place at Jacksonville Clay Target Sports and was the perfect day for all the sporting clay and skeet shooters. There were 115 total participants that made up 25 teams. Proceeds went to St. Augustine Youth Services, who provides a therapeutic home for boys ages 6-18 that have been severely sexually or physically abused and/or neglected. Davidson Cares' goal is to build the 18-year old boys, who have aged out of the program, a therapeutic home to continue living on campus.
The Cooler & Cocktail Raffle and the silent auction were a huge success, too! Proceeds for the Cooler & Cocktail Raffle ($1500) went to the St. Johns Housing Partnership for their efforts in aiding our community affected by Hurricane Irma.
A huge thank you to all the sponsors, volunteers and supporters! For more information or to join the effort, visit www.davidsoncares.com.