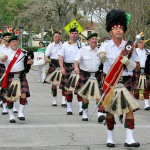 You don't have to wait until St. Patrick's Day on March 17 to celebrate Celtic heritage! The 9th Annual St. Augustine Celtic Music & Heritage Festival is coming to Francis Field this Saturday and Sunday, March 9-10. The hours are 10 a.m. to 10 p.m. on Saturday and 10 a.m. to 7 p.m. on Sunday.
A wide array of activities is planned for the weekend event including Highland Games, a parade, Celtic artisans and vendors, food, entertainment and more.
The St. Patrick's Day Parade will kick off the festivities on Saturday at 10 a.m. This is the world's oldest St. Patrick's Day parade, starting way back in 1601! The parade will make its way throughout historic downtown where the echoes of bagpipes and drums will be heard by all!
Music and entertainment will take place on two stages throughout the weekend, including bands from Scotland, Ireland, Canada and around the U.S. playing both traditional tunes and Celtic rock. Just some of the musicians: Albannach Scottish pipe and drum band, Irish singer Emmet Cahill, Dublin City Ramblers, The Gothard Sisters and others.
Acts also include Captain Mayhem the Pirate Magician and Tartantrum! Celtic Comedy & Musical Mayhem. Performances start at noon on Saturday.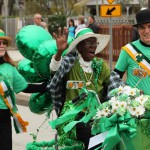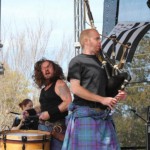 Along with the music and food, everyone loves the festival's Highland Games beginning on Saturday at 10 a.m. Events include Open Stone Put (16 lb. thrown for distance), Braemer Stone Throw, 56 lb. and 28 lb. Weight for Distance, Caber Toss, Sheaf Toss (16 lb. burlap bag tossed with a pitch fork for height) and 56 lb. Weight for Height.
The public is also invited to participate in the Keg Carry on Saturday at 1 p.m. (open to 21 and older only). The person who carries an 87 lb. keg the farthest distance in one minute wins a $50 Gift Card to ABC Fine Wines & Spirits! If you have questions about the Keg Carry, contact Bob Gourlay at Games@celticstaugustine.com.
Pricing is $10 for general admission on Saturday or Sunday. Children 12 and under are admitted free. Retired and active duty U.S. military personnel are also admitted free with current ID.
For more information, visit www.celticstaugustine.com (sorry, tickets for the Whiskey Tasting Event are sold out).