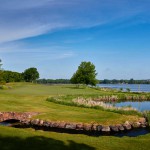 The golf world is excited for this year's KPMG Women's PGA Championship, which will take place at Hazeltine National Golf Club in Chaska, Minnesota, from June 20-23. This is a big year for the tournament, which is entering its 64thyear of play. Here are three reasons this year's championship is one you can't miss:
1. Park, Hataoka & Ryu all return after a big playoff in 2018. At last year's tournament, Sung Hyun Park defeated So Yeon Ryu and Nasa Hataoka on the second extra hole to win her second major title and fourth LPGA career victory. This year, all three players are returning and looking for a title win. Americans Jessica Korda and Angel Yin, who tied for 4th last year, are also returning with an eye on the title. Competition will be fierce!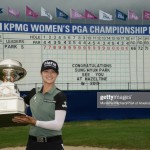 2. This is the first time Hazeltine (and it's dreaded 16th hole) will host this tournament.While other majors have been played at Hazeltine, this is a first for the KPMG Championship. Hazeltine is known for its sizeable hills, narrow fairways and small greens. Watch for the tee shot on the 16th, which must carry 220 yards over Hazeltine Lake as well as the green, which is a raised peninsula that falls off on all sides. Golf legend Johnny Miller commented that the 16th hole at Hazeltine was, "probably the hardest four par I ever played."
3. Michelle Wie will be making her much anticipated return.She has been out for two months dealing with a nagging injury to her right hand. Since undergoing surgery last October to repair an avulsion fracture, bone spurs and nerve entrapment in her right hand, Michelle has dealt with continuing issues. All eyes will be on the crowd favorite to see how she fares in Minnesota.
KPMG, the third LPGA major of the year, will air starting today from 6 – 9 p.m. on the Golf Channel. This weekend, turn to NBC where the tournament will air from 3 – 6 p.m.
Better yet, visit the World Golf Hall of Fame where the tournament broadcast will be shown throughout the museum. You can also enjoy learning about Hall of Fame Members who are past champions, including Annika Sörenstam, Juli Inkster, Pak Se-ri and others.
The World Golf Hall of Fame is open Monday through Saturday from 10 a.m. – 6 p.m. and Sunday from noon to 6 pm.