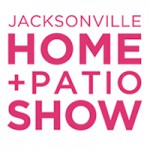 If you are looking for ideas to make your home more beautiful, comfortable and efficient (and who isn't?), plan to be wowed at the annual fall time Jacksonville Home + Patio Show this weekend!
Just some of the features include:
- Several speakers including Eric & Lindsay Bennett from HGTV's Desert Flippers
- An Inspiration Stage (schedule) and Cooking Stage (schedule), each with ideas galore
- 332 Northeast Florida exhibitors offering products and services, all aimed at making your house and yard into your dream home (list of exhibitors)
- A "Make It, Take It" workshop with lots of crafty project opportunities
- Home On The Road feature with the latest homes on wheels from Creative RV and Gander RV/Camping World
- A Skilled Trades Resource Center with info about local apprenticeship programs, including Northeast Florida Builders Association (NEFBA)
- Lots and lots more ideas for interiors, exteriors, landscaping and everything in between!
Don't miss out on the contests including a chance to win a trip to the Minneapolis Home + Garden Show to meet "Dirty Jobs" host Mike Rowe, $300 Home Depot gift card, $200 Best Buy gift card, HotSpring hot tub valued at $6,000, and a free driveway makeover worth $5,000!
The show runs from today, September 26, through Sunday at the Prime Osborn Convention Center (1000 Water Street near downtown Jacksonville). Show hours are Thursday and Friday 11 a.m. to 9 p.m., Saturday 10 a.m. to 9 p.m., and Sunday 10 a.m. to 6 p.m. Food trucks will also be on-site on Friday and Sunday.
Tickets are only $12 for adults, $5 for kids 6-12 and free for children 5 and under. Save $2 when you buy tickets online. **TODAY ONLY: Seniors (60+) pay just $5 admission!
For information about exhibitors, tickets and schedules, visit https://jacksonvillefallhomeshow.com/.
Not going to make it this weekend? Don't worry! The Jacksonville Home + Patio Show will come back around for its spring event in March 2020.