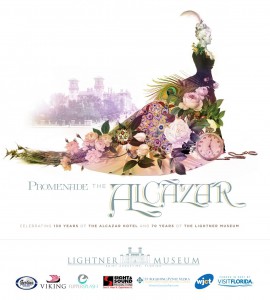 The Lightner Museum will celebrate its 70th anniversary as well as the 130th anniversary of the former Alcazar Hotel (the building where the museum is now housed) this Friday, October 19, from 7 to 10 p.m.
The event, dubbed Promenade the Alcazar, will treat guests to music, light hors d'oeuvres, wine and plenty of fascinating stories about the museum and the hotel that preceded it.
Upon entering the courtyard, guests will enjoy music from the Raisin Cake Orchestra and architectural tours of the historic Alcazar Hotel courtyard.
Inside, wine tastings and hors d'oeuvres will be available throughout the museum's four levels. Guests will also be able to engage with the museum's collection and the rich history of the building. A representative from Museum Hack, a New York-based company known for its out-of-the-box approach to museum tours, will be in the galleries to provide fun insights.
Lightner's curators will also be unveiling several newly restored exhibition spaces and introducing plenty of items for the first time that have been tucked away in storage!
The evening will culminate in the historic pool and mezzanine areas with additional hors d'oeuvres and wine. A special performance in the historic pool area will be delivered by New York's Michael Arenella and His Dreamland Orchestra (best known for performances at events including the Cannes Film Festival and The Manhattan Cocktail Classic).
As an added bonus, attendees will also be eligible to win a Viking Cruise for two to a European destination. It includes a river-view stateroom with deluxe accommodations.