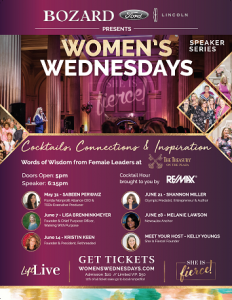 Don't miss the opportunity to hear our community's most inspiring voices at the She Is Fierce! Women's Wednesday Speaker Series throughout June. Each event takes place at the Treasury on the Plaza located at 24 Cathedral Place in the heart of historic St. Augustine. The series began on May 31 and concludes with the final Wednesday event on June 28. A big thank you to Bozard Ford Lincoln for putting on this awesome event.
Festivities kick off at 5 p.m. with Cocktails & Connections, and speakers begin at 6:15 p.m. Featured women have varying backgrounds and stories, all connected by their triumph over struggle and thoughtful insights. According to the website, "Each speaker has her own unique story and each one brings her own fierce energy and enthusiasm for life to her talk!"
The featured speakers include the following:
• June 14th: Kristin Keen, Founder & President, Rethreaded
• June 21st: Shannon Miller, Olympic Gold Medalist, Author & Entrepreneur
• June 28th: Melanie Lawson, News4Jax Anchor
General admission for each event is $20. Visit http://sheisfiercehq.com/womens-wednesdays/ for more information and to purchase tickets. See you there!